New shows confirmed! - May 05, 2010

Grinning Shadows
will play on May 22th, 2010 at the Olden Live Pub in Lonato (BS) in support of Spanish death metal act
Kathaarsis
. On June 10th, 2010
Grinning Shadows
will be the opening act for the second Italian tour date of American death metal legend
Cynic
, at The Mephisto Rock Cafe in Lu Monferrato (AL).
---


"The New Curse" preview - March 01, 2010

An excerpt from the new EP album "The New Curse","Scars of Remembrance", can be pre-listened at our
MySpace page
.
---


"The New Curse" release party - March 01, 2010


"The New Curse", the latest album, will be officially released on March 20th.
Recorded by Tommy Talamanca (Nadir Studios) and Alessandro Bissa (Bee-X Studios) and mixed by Tommy Talamanca, the EP album will contain 5 brand new tracks.


Grinning Shadows will present the new album live at Black Rose Live Pub in Acquafredda (BS).
Supporting acts for the show will be Death Scythes and Deadly Silence.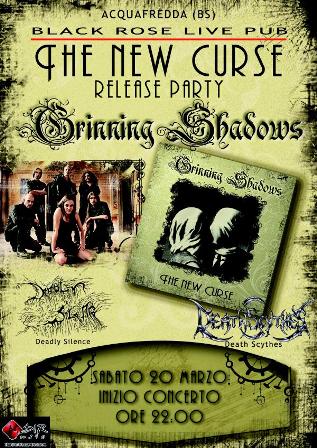 ---


Deal with Nadir Music - February 25, 2010

Grinning Shadows announce a promotion deal with
Nadir Music
.
---